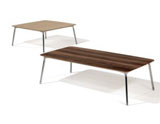 Bluff
Bluff incorporates the same leg as the Brue and Dee upholstery products to produce a family of highly contemporary occasional tables of real elegance. The tops are solid and available in the standard pallet of finish options. The finesse of this product means it can work with a very diverse range of seating products and can be used as either a side table or as a large format feature table.
Breaker
Its simple column and disc foot can be used either at work or occasional table height, combined with either a solid or glass top that is bonded to the column. Breaker's simplicity and adaptability mean that it can be used almost universally, whatever your requirements.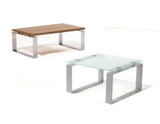 Crest
A family of occasional tables with striking square lines, built around as steel frame of real architectural quality. Crest can be specified with either solid or glass tops to create a very different attitude. Works perfectly when you need to create a strong, elegant statement in awaiting zone or reception area.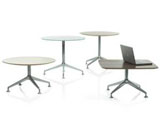 Dune
This range is built off a four-star cast aluminium base and can be used at both occasional and meeting height with glass or timber tops in a variety of shapes and sizes and with glides or castors as illustrated. Dune's cast leg shares the same design language as many other Landscape pieces, so that it can be combined successfully with a wide variety of pieces from this range.
Lock
Lock offers a multitude of functions from surprisingly few pieces. Lock pieces function at work height, apart from the Lock Bar, which is more suited to cafe use or a more relaxed working position. The 01 table is ideal for personal use, while the remainder can be used for small groups, meetings, training or conferences. Each piece has an elegant steel tube frame, with glide or castor options.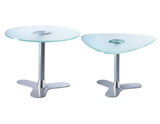 Prop
Prop is a contemporary coffee table range. It offers both circular and triangular etched glass tops with a silver pedestal base.
Six
The six coffee table range is available in various shapes and sizes tops which are fixed to 4 silver legs.
Surf
Surf offers an attractive lightness of presence and works equally well as a small round table between armchairs or as a low working table accommodating up to four people. Its aluminium legs are fixed onto a glass top of various shapes and sizes.